06-06-2022, 11:24 PM
not related to Howard but just what my thinking process and had experienced.
Many years ago, I was hosting a dinner for my Japanese Colleagues that we talked about the zig-sawing stock market.  I says something like Pendulum aka what's go down must go up.
Well, I think I'm not experience enough (at that time). My friend show me the following picture - Japanese stock market chart: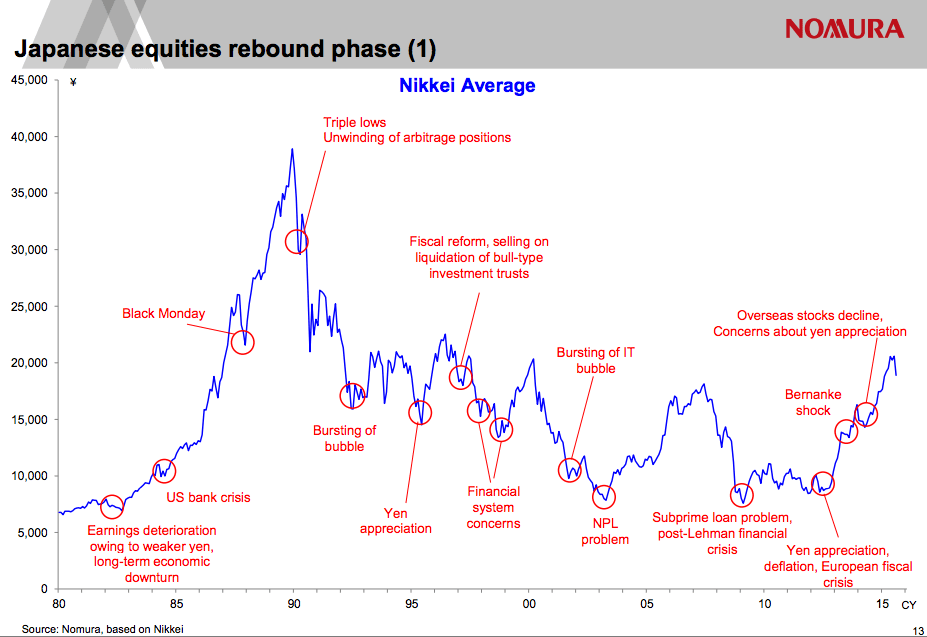 From 1980 to 2015 - nope - didn't recover.
What about now? Does it recovered? 
For those who wanted to know, check today:
https://en.wikipedia.org/wiki/Nikkei_225
---
What ever go up will go down?
What ever go down will go up?
I read a lot of financial blogs and a very common reflection is:
1) Sell to early
2) Sell to late
For 1), the stock was going up and then beyond the valuation metrics and so the valuebuddy will sell. Guess what, they always regret because the stock that they sold usually zoom to the moon.
For 2), exactly opposite, our valuebddy will hold on dearly to the stock until it zoom to the moon and still holding. Then, needless to say, the stock dropped back to the normal valuation price. What a waste! 

This is very common - for a simple reason - none of us could accurately predict the peak of a stock price - nobody could.
I like what Tan Chong Koay says:
Trying to buy a share at the lowest price and sell at the highest is unrealistic.
Very few, if not none, knows the lowest point. Buying near the lows is the best you can do.
Gratitude! 

Wish our valuebuddies a fruitful and fun investing journey ahead.